Teeth Whitening at Arena Dental
Brightening Your Rostrevor Smile
Smile whitening is one of the best ways to start any smile makeover. It's ideal on its own, too. If you have deep stains or naturally dark teeth, our professional system at Arena Dental can help your smile look multiple shades brighter in just one appointment.
Phillips ZOOM! In-office Whitening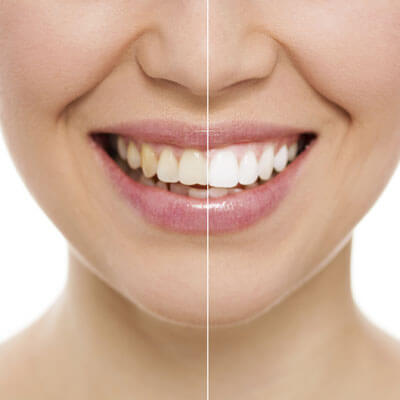 Jump-start your way to a brighter smile with our single-visit teeth whitening treatment. During your visit, we'll apply Phillips ZOOM! whitening gel to your polished enamel and use a unique acceleration process to release stain particles in a matter of minutes. This 15-minute cycle is repeated 2-3 more times until we've helped you achieve desired results.
Whiten Conveniently With a Take-Home Kit
Each of our in-office whitening treatments includes a complimentary take-home system. These personalised bleaching trays allow you to maintain your smile's results for years. We recommend touching up after every scale and clean, or more frequently if you tend to build up stain easily.
If you prefer not to whiten your teeth in-house, you can purchase an SDI bleaching system as a stand-alone treatment. During your consultation, we'll show you how to wear the trays and use just the right amount of gel for the best outcome in the least amount of time.
Do You Qualify for Whitening?
Before starting any type of teeth whitening regimen, you'll need to make sure your teeth are free of any active decay or gum disease. It's also important to note that existing dental work, such as white fillings or crowns, cannot be whitened. If you plan on having any new restorations placed, it's best to brighten your teeth first and then have the updated dental work matched to the whiter shade of your smile.
The Best Time to Whiten Teeth
Teeth whitening treatments are a safe and effective way to enhance the look of your natural smile. As long as your teeth are healthy, choosing to whiten is one of the most affordable "smile makeovers" that you can invest in.
You may want to consider a whitening treatment if you:
Have an upcoming event, such as a wedding or job interview
Want to spruce up the way your teeth look
Are planning on getting other cosmetic treatments (to match)
Tend to accumulate heavy stain or have naturally dark teeth
Want to see fast results
Need a budget-friendly smile solution
Get Brighter Teeth Today
Treat yourself to a whiter smile. Contact us today to book a complimentary consultation.
CONTACT US
* Any surgical or invasive procedure carries risks. Before proceeding, you should seek a second opinion from an appropriately qualified health practitioner.

Teeth Whitening Rostrevor, Newton, Campbelltown, Hectorville SA | (08) 8336 6677