Root Canal at Arena Dental
Endodontic Therapy in Rostrevor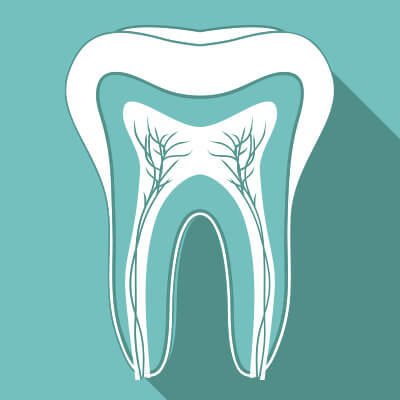 When the inside of your tooth — where vital nerve and blood tissues rest — is damaged, you need more than just a filling. Endodontic therapy, better known as root canal treatment, is a safe and effective way to preserve your tooth instead of needing to have it pulled.
Although a root canal can take longer than a filling, the procedure is just as comfortable. Dr Rocco Arena (Dentist) is known for being especially gentle. We use modern resources and techniques to ensure the experience is a pleasant one.
What Happens During a Root Canal?
During endodontic treatment, an opening is made in the crown of your tooth to access the pulp chamber inside. From here, we remove the tissues that are dying or infected, before thoroughly cleaning the empty canals. Finally, we seal off the chamber to prevent anything like bacteria or food from re-entering the tooth.
After a root canal, you'll need to have a crown made to protect the weak, non-vital structure that's left. We'll match the crown to the colour of your neighbouring teeth so that it blends in with your overall smile.
Symptoms of Infected Tooth Nerves
What are some of the things to look for if you suspect your tooth is dying or has nerve damage? Some of the most common symptoms include:
Gradual darkening of your tooth
Previous trauma several years or decades earlier
A large cavity extending into the nerve
Fractured teeth or broken roots
A visible abscess (fistula) on the gums
Sensitivity to heat or pressure
There are different ways to diagnose nerve damage, depending on the cause. A quick X-ray of the tooth root will show if there is an abscess or moderate fracture in the root, but other tests such as temperature or pressure sensitivity may be necessary.
Do Root Canals Hurt?
Contrary to popular belief, having a root canal doesn't necessarily mean an uncomfortable dental experience. In reality, you'll be kept just as comfortable (and numb) as you would for any other type of restorative treatment.
Root canals are designed to help treat the source of your tooth pain, that is, the infected nerve. If you're experiencing significant discomfort leading up to your endodontic therapy, it's likely due to swelling. We may need to prescribe an antibiotic to reduce the extent of the infection so that it's easier to numb the tooth for your treatment. Otherwise, it's difficult for local anaesthetic to work properly.
Seek Care Straightaway
Delaying your dental care could result in losing your tooth altogether. Contact our family dentist today to find out if a root canal could save your smile.
CONTACT US
* Any surgical or invasive procedure carries risks. Before proceeding, you should seek a second opinion from an appropriately qualified health practitioner.

Root Canal Rostrevor, Newton, Campbelltown, Hectorville SA | (08) 8336 6677