Preventative Care at Arena Dental
Your six-month preventative care appointment is one of the most important investments you'll ever make in your smile. Being that most oral health problems like cavities and gum disease can be prevented, we recommend keeping your smile healthy by schedule a scale and clean twice per year.
Professional Dental Cleanings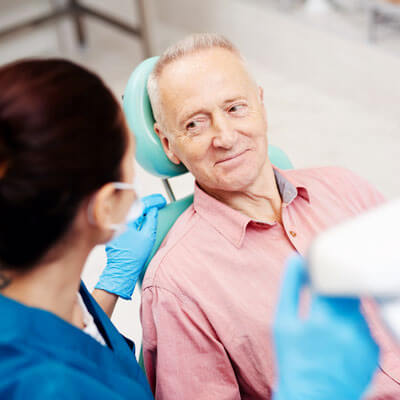 Our hygienist will thoroughly lift away calcified tartar buildup and soft biofilm from your teeth, polishing off any residual surface stains that have formed since your last visit. Your smile will feel smoother, look brighter and be easier to keep clean.
But your scale and clean is just one part of why regular preventative care is so effective. During your visit, we'll also provide:
Oral Health Assessments and Diagnosis
As part of your checkup, we'll perform a thorough exam, oral cancer screening and periodontal evaluation to identify any areas of concern. By monitoring your oral health every six months, we can intercept concerns as they arise, thus using minimally-invasive and more proactive measures.
Should you require any restorative treatment — such as fillings, crowns, etc. — we will discuss our findings and recommendations with you. You'll receive ample information to make an educated decision about your necessary treatment.
Treatment for Gum Disease
Active periodontal disease causes tooth and bone loss, but it's also a risk to your overall health. Underlying medical issues ranging from diabetes, infertility and cardiovascular disease are directly linked to the severity of your gum infection.
Hygiene Education and Prevention
We aim to promote a healthy lifestyle that reduces the risk of common dental ailments like tooth decay and gum disease. Because certain behaviours and habits can increase a person's risk of problems, we review good practices and techniques for each individual smile, no matter the age of the patient.
Book Your Checkup Today
Schedule your next scale and clean or book side-by-side appointments for your entire family. Contact us today to get started.
CONTACT US

Preventive Dental Care Rostrevor, Newton, Campbelltown, Hectorville SA | (08) 8336 6677