Dental Implants at Arena Dental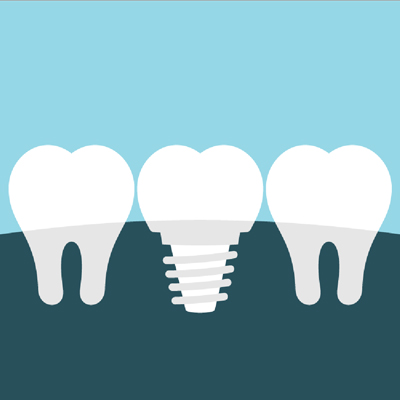 If you have missing teeth or need full mouth reconstruction, dental implants provide both a functional and cosmetically pleasing solution.
Today's dental implants are designed to mimic natural teeth closer than ever before. When set into place, they're non-invasive to adjacent teeth and are just as easy to care for.
Advantages of Dental Implants
Do not require altering the structure of neighbouring teeth
Promote healthy bone and soft tissue support in your jaws and face
Can support single or multiple-tooth restorations
Are easy to care for
Can potentially last an entire lifetime
The Treatment Experience
Before getting dental implants, we'll need to make sure your gums and bone are healthy enough to support them. If they are, we'll plan an appointment to have them placed. Although implant installation is a minor oral surgery, it's more comfortable than what most people realise.
After your implant placement, the artificial root is covered and given time to heal. During this period, the bone will integrate with your implant surface, fusing it permanently into your mouth. When fully integrated, an abutment will be affixed to the top of the implant and your permanent restoration set into place.
Types of Implant Restorations
Whether you have one missing tooth or need to replace all of them, we can design cosmetic porcelain restorations to affix on top of any number of implants required. For one or two teeth, ceramic crowns work best. Multiple teeth in a row would require a porcelain dental bridge. Implants can also support full-arch dentures in some situations.
Caring for Dental Implants
To make your implant treatment a success, you'll need to thoroughly clean around them daily. Brush and floss each implant as if it were a real tooth, paying particular attention to the gumlines. Although implants can last for life, the leading cause of implant failure is due to an infection in the gums and bone from poor oral hygiene.
How Long Do Dental Implants Last?
Because the surface of dental implants promotes osseointegration (new bone fusing with the prosthesis) it bonds your restoration permanently into your mouth. Clinical studies and research have suggested that as many as 98% of implants or more have the potential to last for the life of the patient. The key is to ensure your implants are properly looked after and the area is healthy before they're inserted.
While the implant itself may last for decades, you will likely have to update the fixed restorations on top (crown, bridge, etc.) every so often as it starts to wear out.
Are You a Candidate for Dental Implants?
Schedule an implant exam and X-rays today to find out.
CONTACT US
* Any surgical or invasive procedure carries risks. Before proceeding, you should seek a second opinion from an appropriately qualified health practitioner.

Dental Implants Rostrevor, Newton, Campbelltown, Hectorville SA | (08) 8336 6677