Checkups at Arena Dental
Do you get nervous when it's time to see a dentist? Our team will help you reduce your anxiety and enjoy your dental appointment, whether it's a regular checkup or something more complex.
Dr Rocco Arena (Dentist) is known by our patients as being an extremely gentle and friendly dentist. The better we get to know you and understand your concerns, the more effectively we can tailor a positive oral health experience for you and your family.
Routine and Complex Periodontal Care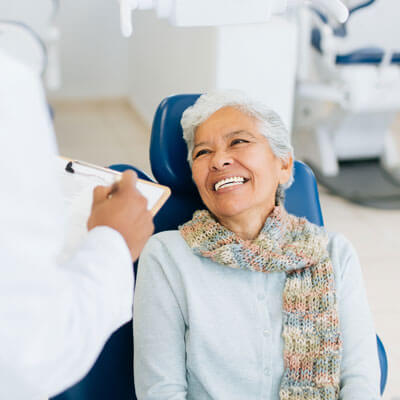 Our exceptional hygienists provide routine preventative cleans and more complex periodontal services as needed. By scheduling regular preventative care visits, you can limit the risk of dental emergencies and tooth loss in the future.
Periodontal treatments such as scaling and root planing (deep cleans) proactively target the areas of bone loss to prevent future damage. Common symptoms of gum disease to watch for include:
Gums that bleed easily
Swelling
Bad breath
Receding gums
Tooth mobility
Spaces between teeth
Comprehensive Checkups
During your appointment, we'll carefully evaluate the health of your teeth, gums and the integrity of existing dental work. You'll also be screened for periodontal (gum) disease and oral cancer.
Periodic X-rays enhance your exam by allowing us to see areas deeper into your teeth, gums and bone. Through earlier diagnosis, we're able to provide less-invasive therapies while conditions are in the beginning stages.
Personalised Treatment Plans
Each of our care plans is designed by our dentist to fit your individual needs, concerns and budget. We have something for everyone and make it a goal to provide long-standing care that encourages a lifetime of optimal health.
Book Your Next Checkup Today
Families are always welcome here! If it's been more than six months since you saw a dentist or you're exhibiting signs of gum disease, contact us straightaway.
CONTACT US

Dental Checkups Rostrevor, Newton, Campbelltown, Hectorville SA | (08) 8336 6677