Custom Mouthguards at Arena Dental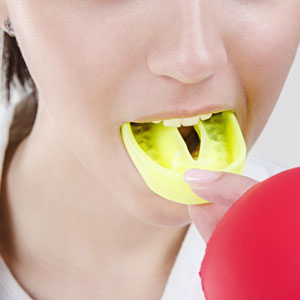 A protective mouthguard is one of the best ways to reduce your risk of dental and facial injuries during recreational or competitive sports. Each custom-fitted appliance sets securely over your teeth, for a snug fit that stays in place when you need it the most.
Choosing to invest in a professionally made mouthguard can:
Lower your risk of concussions
Reduce the chance of broken or knocked-out teeth
Minimise soft tissue damage such as smashed lips or cheeks
Be more comfortable to wear than over-the-counter appliances
Professionally Designed for Your Smile
Arena Dental works closely with Steve Daff Laboratories in Adelaide to provide the best product for our patients in the least amount of time. Each mouthguard is fit precisely to your unique smile, for optimal cushioning and shock absorption. After taking your impression and sending the mould to our lab, we'll have the final appliance ready to wear in about 1-2 weeks.
You can even select which colour you would prefer, to match your uniform!
How Long Do Mouthguards Last?
Older teens and adults can keep their mouthguards to wear each season. However, younger patients such as children whose smiles are still developing will need to have their appliance updated intermittently, such as once per year, as their mouth grows and new teeth erupt.
Bite Splints for Teeth Grinding
Another type of mouthguard that we offer is a bruxism splint, which is worn to reduce tooth wear caused by excessive clenching and grinding. These splints minimise damage to your existing dental work and help to manage symptoms of TMJ disorder, such as frequent headaches.
A Smart Investment in Your Smile
It's never too late to start wearing a mouthguard. Contact us today to have a custom protective mouthpiece made for yourself or your child.
CONTACT US

Custom Mouthguards Rostrevor, Newton, Campbelltown, Hectorville SA | (08) 8336 6677