Crowns and Bridges at Arena Dental
We put our smiles through a lot. From accidents that cause broken teeth to stressful lifestyles that lead to bruxism (grinding and clenching), the consequences can start to add up. Fortunately, quality porcelain materials make it possible to restore your broken or missing teeth in a straightforward manner.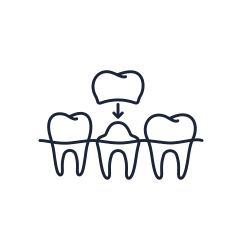 Individual Dental Crowns
A crown is a protective "cap" that slips over your tooth to safeguard it from cracking or breaking. It's durable enough to withstand everyday chewing, which extends the lifespan of the already compromised tooth.
You may need a crown if you have a large cavity, need to replace an older filling, had a root canal or to top off an individual dental implant. The crown will be carefully matched to blend in with adjacent teeth, maximising the aesthetic outcome while restoring your damaged tooth.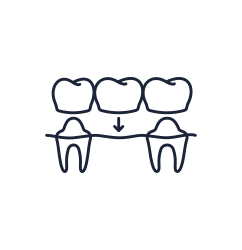 Multi-Tooth Bridges
When a tooth is missing, or you have multiple teeth being replaced with implants, a porcelain bridge is usually the best restorative choice.
Bridges look like 3-4 crowns in a row but are connected to work as a single unit.
The end crowns are set over the supporting teeth or dental implants, with the pontic crowns suspended over the open space in your mouth.
Quality Materials and Lab Selection
The appearance of your cosmetic crown or bridge is much dependent on the materials used and the artistic capabilities of the technician crafting it by hand. We work closely with renowned labs for the best possible results. No two cases are the same. Your new crowns, bridges or other porcelain restorations (like veneers) will be expertly designed and detailed for your particular smile and facial features.
Caring for Your New Fixed Bridge or Crown
To extend the life of your new crown or bridge, you'll want to take specific steps to clean around the edges of the restoration where it meets your underlying tooth/teeth. Otherwise, plaque accumulation can lead to a weakening of the supporting tooth and the development of a cavity, causing your restoration to fail.
When brushing, aim the bristles slightly towards the gumline and brush gently to massage the gums and lift away buildup around the margin of your crown/bridge. Daily flossing is crucial. Gently rub the floss up and down just under the gums, keeping it taut against the side of your crown. For bridges, use a floss threader to weave the strand under your restoration and floss against the supporting teeth.
Schedule Your Consultation
How can we help you fall in love with your smile? Contact us today for an appointment!
CONTACT US
* Any surgical or invasive procedure carries risks. Before proceeding, you should seek a second opinion from an appropriately qualified health practitioner.

Dental Crowns and Bridges Rostrevor, Newton, Campbelltown, Hectorville SA | (08) 8336 6677