The History Behind Arena Dental
Providing 50 Years of Healthy Smiles in Rostrevor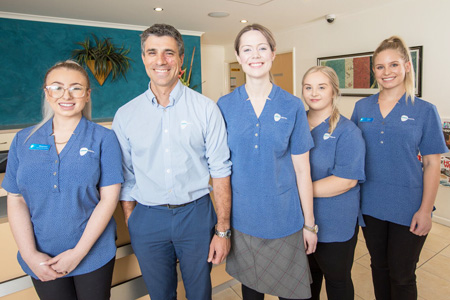 For over 50 years, specially picked dentists have handed down our practice from one to the next. Dr Rocco Arena (Dentist) came to our office in 2003 and is one of the longest-serving dentists in the area. Most of our patients come to us because of our word-of-mouth reputation. We're known for gentle care and the way we treat our guests like family.
Our practice is situated in the foothills of beautiful Adelaide. We treasure the friendships shared with long-time residents and the many new multicultural families immigrating into our area. Many of our team members grew up here and are proud to call it our home.
Relationships Come First
We value family. Putting others first is something that makes our practice different. A work-life balance is essential, but so is doing everything we can to meet the oral health and scheduling concerns of the patients we serve. We're here for your same-day emergency treatment or to discuss a cosmetic smile makeover. You'll receive a trustworthy experience and advice for your unique concerns. Here, your family always will feel at home.
Providing Complete Care
From offering checkups and cleans to fillings and smile makeovers, we give honest advice and lend an attentive ear. Rest assured that we always will put your needs and concerns first. Helping you achieve your oral health and smile goals is our priority.
Helping Our Community Achieve Healthy Smiles
Having served the community for five generations, many of our patients have grown up in our practice. We value prevention-focused dentistry. It's a priority for us to limit the extent of treatment that your family needs in the future.
If you're nervous about seeing the dentist, we can help. Ask to arrange a complimentary tour of our practice to get to meet our team in advance. During your visit, you'll get to preview our comforting and friendly atmosphere (sprinkled with Dr Arena's love of good humour) to help you feel at ease.
Flexible Scheduling Options
Our friendly, upbeat atmosphere caters to families and working professionals. Contact us today to request your first appointment.

Arena Dental | (08) 8336 6677